Six Fun Ways to Tidy Your Room Less Overwhelmingly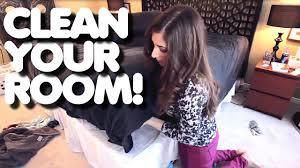 Groans and cries of protest aren't always a sign of stomach ache or something that you don't want to eat but are often heard when it comes to clean your room. Though it's nothing enjoyable especially when it comes to children and teenagers who don't see any reward, thinking that it'll get dirty again so what's the point. Folding clothes, mopping and vacuuming floors and carpets, make beds, remove clutter and wipe the shelves may sound like a real drag but there're many ways to get yourself motivated and have fun with this particular chore.
Think of it as an Event
If you're a parent to a teenage girl or boy, rousing them to tidy their living space is closer to "Mission Impossible" so be subtle in your approach. Allow them to invite a bunch of friends for snacking or a small weekend get together and make them clean it up with team spirit. Lend each with a broom, duster, mop and a vacuum while you prepare some cool lemonade with baked brownies and see how the work's done in a matter of minutes! Be more appreciative by taking everyone for a pizza treat!
The "Green & Charitable" Approach
No matter how weird they dressed or behave at times, teenagers of today are far more concerned about the society and burning issues such as pollution and poverty. So why not encourage them to start with their rooms when it comes to a cleaner atmosphere and ridding al unwanted stuff. Maybe a few goods are still in good shape which can be donated to charity. It's all about developing social conscience and tactical organizing with their age group! When it's done, make them feel like a hero like giving your kid few bucks reward.
Clean With the Beat
Lest your teen is a music maniac, use the tunes to turn their sporadic room in shape. Besides, it's not just enjoyable but good music tends to stir inner vibes and motivates to do something really optimistic like in this case tidying up the dorm. Whether living on anyplace in the world, high-energy or metal music is a real inspiration to rock, roll and operation cleanup. Parent may also get along with their children to make it more fun and frolic.
Game for a Change
If you're having two or more kids, their room is bound to be messier than usual. So why not let this weekend be an ultimate game day and make it a more loveable chore! Relay rules of the contest like whoever gets more cleaning will win a delightful treat. Meanwhile, hide a few prizes such as candies or comic books at spots for more motivation.
Think Creative
Let's pretend! Think of the messy floor as a lava and picking up all the pile of clothes, books and other stuff is the only way out! Closets and drawers are the key to win this game in time before snack bell rings downstairs. Next, be more imaginative and consider if you'll not get the place spruced up, it's the dungeon and getting it done is a chance to go shopping with friends.
Make a List
There're times when cleaning might take hours lest the room is totally topsy-turvy. What you can do is make a list like clothing, books, toys, shoes and probably all the stuff before beginning. This'll help you to begin without getting panicked. Take small breaks after finishing with a corner before leaping towards another.
Summary
Following the above guidelines will definitely make room cleaning a fun task. So do read before you begin!