10 TOP UK FORESTS FOR CYCLING
Get away from the usual cycling sojourns of roads and cycle paths and take an alternate route – through a forest.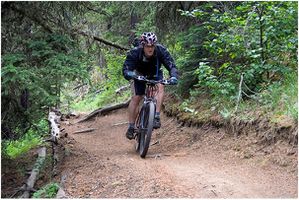 When you think of cycling, probably the last thing to pop into your mind is forests. Roads, yes. Cycle tracks, definitely. Pavements, possibly (naughty).

Yet when it comes to enjoying the trees, plants and general verdant glory of those natural green environs – on a bike – the UK has an impressive coterie of woods and forests to choose from.
Here then, are ten of the best.


Cardinham Woods
Only recently opened, Cornwall's new mountain-biking trail includes the impressive, yet fearsomely monikered, Bodmin Beast and Hell's Teeth as part of its course. Its reputation is growing too, and it's already become a firm favourite with informed and experienced mountain bikers.


Leigh Woods
A stone's throw from the hustle and bustle of the city centre, Leigh Woods is the perfect short-distancefix from all things urban. Expansive and impressive, its trails offer an eye-pooping backdrop with views of Clifton Suspension Bridge and Avon Gorge.


New Forest
Not the place to go if you're looking for any form of extreme cycling, but it does offer 100 miles of traffic-free routes on flat, gravel track. And that makes it ideal for families, particularly during the summer months when you can spot the endearing Forest foals. Just don't try to disturb them or feed the forest ponies.


Grizedale Forest
Cumbria's cycling spot over the Lake District offers ancient oak woodlands and fantastic views, taking you across to the Old Man of Coniston. There are six way-marked cycling trails, and only one of them is for the more hardened and adventurous cyclist – all the others offer a more sedate trek though forest roads, although they all have hills.


Kielder Forest
Northumberland's forest offering is an awesome choice for both its size and variety of routes. It also holds the crown as England's largest forest, so for any attempt to cover at least a portion of it, you're going to need your trusted two-wheeled companion.


Forest Of Dean
Often considered the forest of choice for a whole slew of mountain biking experts (and Wide Open magazine, for that matter), the Forest of Dean provides family routes such as the Peregrine Path, and mountain biking routes in the Sallowvallets area. It doesn't offer huge terrain or rough and rugged descents – just fun, fast trails. Their bacon butties come highly recommended too.


Dalby Forest
Situated in Yorkshire, this is one of the best mountain biking sites in the world. Its four mile, black graded World Cup cycle is challenging even by professional standards. But don't worry. It also offers less arduous courses in the form of green and blue trails, graded moderate and easy.


Sherwood Pines
Offering mountain bike trails that range from green (easy) to orange (extreme), this is the largest forest open to the public in the East Midlands. Route 6 of the incredible National Cycle Network runs straight through it too, so cycling tourers are also offered a taste of the woodland as part of a bigger ride.


Bedgebury Forest
Situated in Kent, this forest offers two tracks – an eight mile single track for mountain biking, and a family-friendly six mile trail, which you can easily cut short if you've had enough. You can't cycle through the stunningly beautiful National Pinetum, but you can still explore its gorgeousness on foot.


Hamsterley Forest
This is a well-known and popular mountain biking spot in County Durham, known for its downhill trails and offering a more technical, challenging ride. The Walnet to Wear long distance cycle route passes through this forest as well.

Can you recommend any other great forests for cycling in the UK? Share your experiences and comments below.