Bandhej Sarees online: buy traditional sarees with all comfort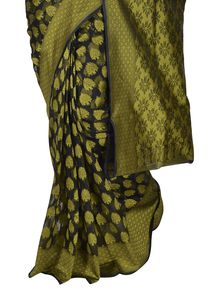 Sarees are basically female clothing in major part of India and across globe wherever Indian women reside. It is considered as one of the ancient clothing for women and nobody knows since how many centuries it has been in tradition. It has many different sub types depending on some of its characteristics and styles. If we see it as a cloth it is minimum five meters in length and almost one meter in width. Actually the size of saree varies as per its style of wearing. There are many types of saree. Some of them are kalakatti, silk, banarasi, south cotton, kanjivaram, brasso, lakhanvi chikan, laheriya, bandhej, patola, gharchola, panetar and paithani.
These all sarees are worn by females from different cultures. But one of these all is very common and preferred choice of any female and that is bandhej. Bandhej sarees have different history. Mostly produced in some parts of Gujarat and Rajasthan bandhej is very popular among women. For bandhej sarees, famous centers are Jetpur, surat, Jamnagar and Bhuj in Gujarat and Udaipur and Jaipur in Rajasthan. Though these sarees are in trend since many years yet with the passage of time due to blessings of technology you can now buy bandhej sarees online also.
Bandhej sarees are produced by combination of manual work and machine. After having dye on it the cloth is knitted by artist in such a manner which generates a specific pattern on the saree. It is also available with block print techniques. Bandhej from Jaipur, Bhuj, Jamnagar and Surat are very famous and popular among its wearers. Bandhej sarees made of different materials are also available in online stores. You can check the pattern and pictures of the saree and decide which one you would like to buy. In online stores as you don't have any time limit you can check it comfortably, taking your own time at and since they are open 24 hours a day, you can visit them at any point of time even at nights. The best part is you can avail discounts also without any specific scheme or festival season. You can change and return the saree to the store as per the exchange and return policy of the store.
While buying bandhej sarees online you can check its material specification also which can give you fair idea of material used to produce the saree. You can avail the latest trend bandhej sarees from online store. For a better deal you can easily switch from one to another online store. Even some stores provide schemes on purchase of articles like gift coupon or surprise gift which can be an additional benefit to you.  While you purchase sarees from online store certain points are to be kept in mind. The important point is you cannot try the saree practically so it may not give you a fair idea about matching of same with your skin complexion.  But looking at over all benefits of online shopping you can definitely go for it at least once. Just give it a try.
Author Bio: The above article is based on bandhej sarees online written by Akshay Kumar who is currently working on goodbells which provides Online clothes shopping for Men's and Women's.