Complement Your Home With A DIY Pergola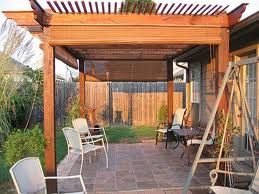 With a pergola in the backyard, outdoor living is so much more accessible than ever before. Whether you're yearning for a quiet, protected place to kick back and get lost in a book; a new space in which to host dinner parties and intimate gatherings; or simply a visually attractive addition to an outdoor area that needs some spicing up, you'll find that a pergola provides an appealing solution.
Even though it might be tempting to call a tradesman, opting for a DIY pergola is so much more fun than making coffee and watching someone else exercising their creativity.
Pergola kits: accessible materials and clear instructions
If you're not an overly experienced builder, and don't feel comfortable starting from scratch, then a pergola kit is a sensible option. It provides you with all the materials you need, preventing frustrating calculations and countless trips to the local hardware store. Plus, clear, easy-to-follow instructions are included. If you come across anything that you don't understand, you usually have the option of contacting your supplier for advice and assistance.
DIY pergola fun
At the same time, you get to engage in the fun process of Doing-It-Yourself. That means you play a role in every single part of the process, from rolling out the pergola plans to deciding where you're going to position your masterpiece, to assembling the various components, to hammering to your heart's content. At the end of it all, you get to stand back and look at something you've created with your own two hands. Given that it's in your garden, you'll be able to enjoy the feeling of satisfaction time and time again. You have to admit, that sounds much more enjoyable than watching a tradesman who's done it all a million times before.
Choosing your pergola plans
Once you're committed to a DIY pergola, the first step is usually selecting a pergola kit that embodies exactly what you need. Some of the issues to consider include location, scope, materials and design. When thinking about these, remember that your priority should be to fulfil your goal. In other words, if you're after a party pergola, which you're hoping to transform into the neighbourhood's social hub, then make sure you choose pergola plans expansive enough to accommodate all of your potential guests. If, on the other hand, you're more interested in creating a peaceful, private hideaway, where you'll be able to enjoy some solitude, then you might like to think about including scope for leafy plants and climbing vines.
The successful DIY pergola
To ensure that the final outcome is just what you envisioned, put time, effort and attention to detail into the planning process. Make sure that you measure your intended site accurately, so that the pergola kit selected is physically compatible. Consult photos, to check that the design you have in mind is 100% appropriate to your site – the overall outcome should be harmonious, so check that the structure you're going to build doesn't clash horribly with any existing buildings.
Finally, before commencing work, double, and even triple, check, that you have everything you need – every piece of wood, every nail and every tool.
Most importantly, pergola kits are about having fun and getting creative!