Delicious Pork Recipes for A Grand Christmas Dinner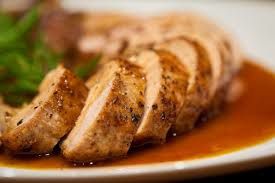 Preparing for a Christmas dinner can really be time consuming. Planning menus that will be suitable for all your guests will surely be quite difficult since each and every one of us have our preference when it comes to foods. You know what is one dish that everyone would surely love? Pork recipes!

That's a sure winner!
Now, you do not have to look any further for pork recipes as we've got the best ones right here!
If you are preparing for a grand dinner, here are some pork recipes you can take a look at.


Baby Back Ribs
Of course, no dinner will ever be complete without this amazing pork recipe. Anyone will surely love the taste of this classic pork recipe. This will surely be the belle of your grand dinner!

What you will need: ½ cup of brown sugar 3 tbsp of unsweetened cocoa powder 2 tbsp of minced garlic 1 tbsp of onion powder 1 tbs Kosher salt, coarse ½ tbsp cayenne pepper 4 lbs of pork baby back ribs 1 cup of beer blend barbecue sauce


What you should do
Preheat your oven to 350 degrees Fahrenheit. Mix brown sugar, cocoa powder, minced garlic, onion powder and Kosher salt. Rub the resulting mixture to both sides of the baby back ribs. Line a baking pan with foil and place the baby back ribs in there. Bake this for an hour.

Preheat the barbecue to medium heat. Cover the grates with added foil. From the baking pan, transfer ribs to the heated barbecue.

Grill the ribs for 20 minutes or until the ribs become tender. Turn the ribs and brush barbecue sauce on it from time to time.


Honey and Spice Pork Tenderloin
What you will need: 1 lb of pork tenderloin ¼ cup of Catalina Salad dressing 1 tsp of chilli powder 1 tsp of garlic powder 1 tsp of dry mustard ½ tsp of paprika ¼ tsp dried thyme leaves 1 tbsp of honey


what you should do
Heat your barbecue to a medium heat. Brush your meat with 2 tbsp of the dressing. Mix all the dry seasonings together. Rub it into both sides of the meat. Let it stand for 10 minutes. Grill the meat for 20 minutes. Turn the meat occasionally. After that, mix the honey with the dressing. Using dressing mixture, brushes meat. Make sure that you turn the meat from time to time and brushing it frequently with the excess dressing mixture. Remove the meat from barbecue and cover it with foil. Allow it to stand for 5 minutes. Slice afterwards.

These recipes are not only delicious; they are easy to prepare as well!