INNOVATIVE GIFTS FOR A MEMORABLE RAKHI!
It's true that rakhi is incomplete without sharing cool gifts with your sibling. People await rakhi especially for scrumptious mithais and best gift! So why not do something novel and interesting this rakhi? Let's get rid of the boring gifts that we share every year and add a personal touch to them making it all the more special! Now, we can choose anything under the sun since a sea of options are available at our disposal but we have taken the opportunity of refining them down for you to choose the best ones! Here is a list of some cool customized gifts:
 Memorable cups!
What's better than imprinting a beautiful memory on a cup? There are many shops that can get special prints made of your own choice on cups. So pick up your favourite memory or picture and flaunt on cups reminding your sibling of how precious he or she is to you.
 Special message tee shirts!
One cannot find a better way of expressing love and affection! Scribble down a personal message and get it on a tee shirt. It can be a funny quote your brother or sister likes, a personal joke between you two or a simple message saying how much you care.
 Hand-made cards!
Making a card personally always adds that special touch and makes it worth remembering. Pamper your sibling this rakhi by making an interesting card. You can take ideas from internet based on the personality or liking of your sibling. Other things like hand-made paper, decorative mirrors and sparkling laces can also be used to beautify your card.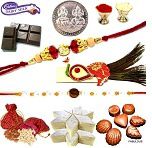 Make chocolates!
If your sibling has a sweet tooth, this is the best way to impress! Pamper him/her this rakhi with delicious chocolates. Your effort will surely be be appreciated and if you do not have a steady hand at making chocolates then start practicing now! Easy chocolate making recipes are easily available on the internet.
 So buck up and start preparing! All these best gifts require pre-planning so it's time to begin searching the internet. Sites like shopping.rediff.com can come in really handy where you can easily find ideas for rakhi. Once you find what you want, then all that needs to be done is place an order on the internet and await a quick delivery! So hurry up and make a choice to make this rakhi worth remembering!