Naming of stadiums – illuminated signs
Decades ago most of the sports stadiums and arenas all over the world did not have big illuminated signs to show the name of a big company which the stadium is named after. They were named by famous people or the landscape they were built in.
During that time no one could imagine the commercialization that has taken place over the years. Nowadays club owners see naming their stadiums and arenas as a possibility to raise huge amounts of money. Money, that is so important not only in sports business but in business in general.
The trend started about sixty years ago and is now very common all over the world.
I would like to show a couple of European examples for name giving of stadiums and their illuminated signs.

First of all there is the Emirates Stadium in London. It is home of the Arsenal Football Club in London. It was opened in 2006 and has a capacity of around 60,000 people during matches, which makes it the third-largest stadium in England after Wembley and Old-Trafford.
It was a new stadium which means that Arsenal had to move from its Highbury to a new location. On one hand this is an exciting step but on the other hand huge tradition was left behind. That is why the Club has done something called "Arsenalisation" in order to restore the history of the club.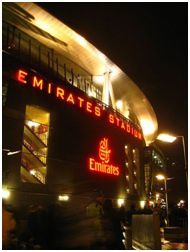 Fly Emirates was chosen as the sponsor of the stadium. That's the reason why it's called "Emirates Stadium" and these illuminated signs shine in red at the entrance on match day.
Not only are they the sponsor of the stadium, there name also appears on the jerseys of the players.
Another good example for naming rights and illuminated signs is the Allianz Arena in Munich, Germany.
Since 2005 it is home of Bayern Munich as well as 1860 Munich. Before 2005 they both played in the historic Olympiastadion.
With a capacity of about 71,000 people it is the third-largest stadium in Germany. Only the Signal Iduna Park in Dortmund and the Olympiastadion in Berlin are larger.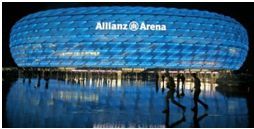 The Allianz Arena is a true masterpiece. Not only is the logo made of illuminated signs but the whole shell. If Bayern is playing, the stadium shines in red. If 1860 Munich is playing the stadium shines in light blue (these are the team colours). Whenever there is a match of other teams, for example an international match, it shines in white.
That is a very unique and cool idea for illuminated signs.
Whenever a traditional stadium name is going to be changed the fans will not like it. Unfortunately this movement became a big trend and it probably cannot be stopped anymore because it is just an easy way to raise a lot of money.
But in the end the fans will profit from that as well because their team has more money to spend on good players.