Original Design Solutions for the Bathroom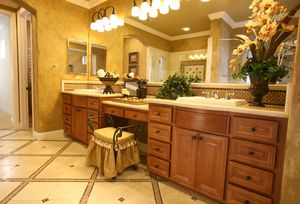 People often tend to choose decoration when they want to make their homes more comfortable. This method is widely known for bringing class, color and style to people's dwellings. People decorate different parts of their homes – the bedroom, livingroom and even the bathroom. That's not only a way for one to make himself/herself feel more pleasant while at their home, but also to make a nice impression on all the guests that visit their home. Actually, many folks pay plenty of attention to the bathroom. Most probably due to the fact that this is expected to be not only the most neatly organized, but also the most sanitary room in the entire household. This is why, when one decorates it, s/he makes it appear even more appealing. Surely, the bathroom can easily be turned into a fancy showroom by installing big garden tubs, automatic showers, sinks that have been custom made along with heated bars for the towels as well as golden faucets. However, this will, without a doubt, break your bank. So, if you prefer to turn your bathroom into a more elegant one while still keeping within a tight budget, here are some ideas that you can use.
You can move things around a bit by installing some shelving in the bathroom. This is especially smart way to make good use of the seemingly useless shelving that lays forgotten in your garage. It can be easily re-purposed for the bathroom. All you need to do is to use glossy black or red spray-paint. This can give the old shelves a whole new look. Once installed, they could be used for towel and toiletry storage or for putting decorative soaps and scented candles on them.
The mirror is an inseparable element of every bathroom, be it a small or big one. And if you want a pretty bathroom, you will obviously need a pretty mirror. In order to make it such, pay a visit to the local thrift store. There, you will surely find a nice looking vintage picture frame that can be used as a frame for the mirror. If you fail at finding just a frame, why not buy a whole picture, from which to use just the frame. Thrift stores have everything at low prices. A nice feature mirrors have is that they can make the bathroom appear bigger than it actually is. Just make sure you put it up horizontally – this will create width and space.
If you need some more storage, visit a yard sale or, again, the thrift store, and look for an old bedside table. It has to be either in a matching color with the bathroom or to be painted accordingly. It can be used for storing towels or toilet paper. A nice touch will also be some scented candles onto the bedside table.
Having a vanity is also a nice interior addition to the bathroom. But if a more unusual vanity is what you desire, get one old dresser (it can be even one with a damaged top). You will have to cut a hole in the top so that you will be able to fit a sink there. Needless to say, cut a hole in the back too, for plumbing.